Norfolk Broads Discounts and Offers Newsletters
Here you will find our archived Newsletters which are emailed monthly to subscribers containing latest offers and discounts together with general advice for anyone wanting to hire a boat on the Norfolk Broads.

To read more, just click an image of one of the newsletters.
November 2016
The 2016 boating season was now over and all the boats were "back home" awaiting their turn to be taken out of the water and spruced up over the winter. It was time to think about the Easter holiday next year with 3 night breaks starting at just £52 per person for a 5 berth boat. Our highlighted town this month was not a town but a city - the fine city of Norwich. Read the newsletter for a description of what is on offer to the hire boat crew.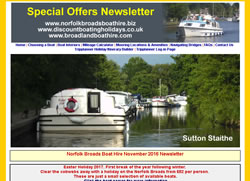 October 2016
This year's boating season was drawing to a close with the Half Term Break at the end of the month being the last "major" event of the year. There were still bargains to be had such as £116 discount on a seven night break aboard Gainsborough Girl starting on the 22nd October. The October "Live Music" update would be the last until March next year and the village of Thurne was highlighted in this month's feature.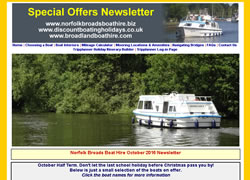 September 2016
The Autumn half term break in October was the focus of this month's newsletter, pointing out that it was the last chance to get away with the family before Christmas. There was still good availability with prices starting at £72 per person for a week aboard St Moritz, a 6 berth cruiser from Richardsons in Stalham. Our village lowdown this month focused on Brundall on the River Yare. If you are considering a trip up the Yare next time, take a look at our guide on what to do, where to eat, moorings and local amenities.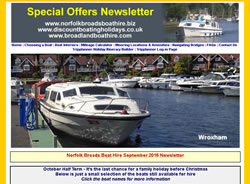 August 2016
The peak season was upon us and already there were few boats to hire for the late August Bank Holiday. We put together a list of availability for those people wanting to take advantage of the public holiday. You could book 2017 at 2016 prices and all for a one off £50 per boat deposit and our village lowdown centred on picturesque Sutton Staithe on the River Ant.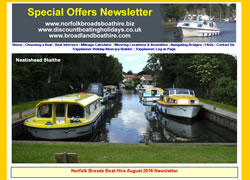 July 2016
Hoseasons were having one of their flash sales with £25 off a host of boat holidays commencing and finishing in the month of July. We highlighted availability for the middle of August as the beginning was becoming sold out and our village lowdown centred on How Hill with its woodland walks, water trail and splendid gardens.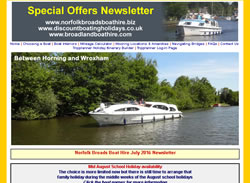 June 2016
Wow, the August school holidays were booking up fast this year probably due to the security scares affecting many overseas holiday destinations. Nevertheless, we were still able to pick out some family boating options for the early weeks of the school holidays. The sleepy little village of Dilham, at the "top" of the River Ant was next in line for our village lowdown. Add it to your itinerary and experience the peace and tranquillity.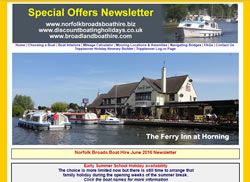 May 2016
The Spring Bank Holiday was just around the corner and availability was tight. Friday or Saturday for 3 nights still showed good availability so we featured offers for the holiday weekend. You could still get a Friday to Monday boating break from as little as £85 per person aboard Dream Gem, a five berth boat from Richardsons. Dismaying news was that Royalls of Wroxham were to stop hiring after the summer 2017 season and our featured village this month was Stokesby.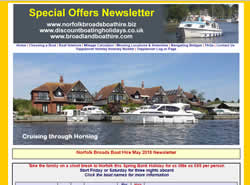 April 2016
The boating season was now under way and though there were less boats available for the Spring Bank holiday than last year, there was still a good choice for those wanting to take the family away. Our Live Music and Other Events was updated to include the months of April and May. Our featured must visit location this month was Rockland Staithe and the nearby picturesque Rockland Broad.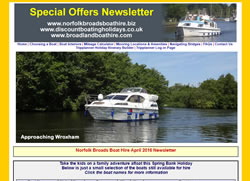 March 2016
The Easter holiday was our main focus this month and as it fell quite early this year - at the end March. The boat operators were doing their best to entice people with discounts of up to £190. This being the start of the new season, we relaunched our Live Music and Other Events Listing and Ludham Bridge was our featured stop off point for this month.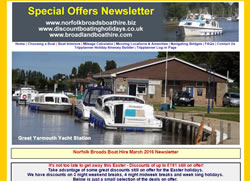 February 2016
It was striking that bookings for 2016 were around 15% higher than this time last year. We put the reason for this down to a switch from holidaying in certain countries abroad due to the risk of terrorism and the higher prices being demanded by Spain. The hideaway village of Neatishead was featured this month, a picturesque stopover for any sailor.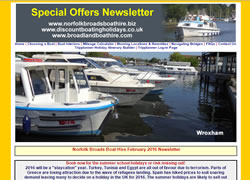 January 2016
Christmas and the New Year was becoming a memory and with the shortest day of the year already passed, it was all down hill to summer. Discounts of up to 10% throughout the season were on offer together with a £25 per booking deal for bookings made in the first few days of January. Acle was our featured town so if you are planning a stopover here take a look at what is on offer to those arriving by boat.