Norfolk Broads Discounts and Offers Newsletters
Here you will find our archived Newsletters which are emailed monthly to subscribers containing latest offers and discounts together with general advice for anyone wanting to hire a boat on the Norfolk Broads.

To read more, just click an image of one of the newsletters.
November 2019

Summer season 2019 finished at the end of October, and in most cases, the boatyards will now begin the job of refurbishing their boats for next year, so that they're ready for the start of the 2020 season in March. There are pluses and minuses to booking now for next year. The trouble is, Christmas is around the corner so most people need to watch their finances at this time of the year, plus the cold wet autumn we are having, does not instantly put a picture of the joys of boating on the Broads in your mind. Set against those negatives are that you can usually select the exact boat of your choice booking so far in advance, and pay for it with a low deposit of between £25 and £75, depending on the size of the boat. That payment is all that is required to secure the boat, with nothing more to pay until the final balance is due. You get to dream about and plan your holiday all winter long, safe in the knowledge you have your first choice boat secured. There really is no reason to miss the boat.

Coltishall is a lovely village a few miles above Wroxham, on the River Bure. Its streets reflect the wealth of an age when Coltishall was an important wherry trading point, with much fine architecture in the many Edwardian buildings which line the road. If you feel like including it on your next Broads itinerary, take a look at our newsletter, which details, where to moor, what to see, where to eat etc.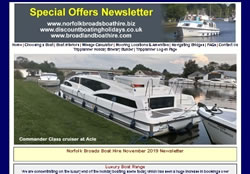 October 2019

The Autumn Half Term break is just the other end of the month, and it really does present the last opportunity this year to get afloat for a family adventure. Prices are so much more reasonable, moorings are readily available and all the pubs, restaurants and shops are still open. Our latest newsletter offers some suggestions, with prices starting at just £56 per person based on 5 people sharing Barbados from Stalham for 4 nights commencing 28th October.

Bookings for next summer are already on sale and you can reserve your favourite cruiser for a low deposit of between £25 and £75 per boat. Currently, some of the boatyards are offering a 5% discount for early bookings. This usually ends at the end of October so if you know you will be holidaying on the Broads next year but haven't got around to booking yet, it might be worth looking up these deals.

This month, St Olaves is our featured village. Situated on the River Waveney in the southern Broads. It makes a good stop off point being half way between Yarmouth and Oulton Broad. The Bell Inn, near the bridge, claims to be the oldest pub on the Broads. Click the newsletter image for more information on any of the above.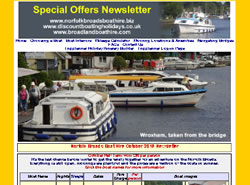 September 2019

The kids are back at school so Autumn is just around the corner. If you were on holiday on the Broads during August, you'll know how expensive the boats are at that time. Early October, and the prices are less than half what you pay in August. Broadland Galaxy for example, a six berth cruiser from Stalham would have cost £1335 for a week in August but is just £537 in late September. The weather is still reasonable at that time so why not take advantage of a few days or a week when it's a little quieter.

If you have to wait until next year to get your Broads "fix", you can book for 2020 for a one off low deposit of £25. You still have the boat of your dreams to look forward to, without laying out money that could be better used elsewhere. Click the image for more on any of these topics..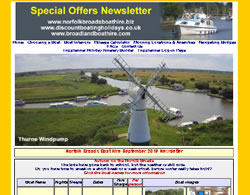 August 2019

When out on the rivers, you cannot help but notice the large proportion of "luxury" cruisers sailing up and down. There seems to be a desire in the current climate, to kick off the uncertainty and to spoil ourselves for a few days or a week. With that in mind, this month's newsletter concentrates on the availability of "high end" cruisers still available to hire over the August school holidays. There is still a good selection if you want to treat the family to that "private yacht" experience.

Brundall is an expanding village around 10 miles from Norwich, on the River Yare. It is notable for being the home of Brooms Boats, a luxury powerboat maker. These boats are the sort you see in the posh marinas around the world. Many are moored at their yard in Brundall. They also operate a fleet of hire boats from here. Being just 10 minutes by train from Norwich, makes it an ideal stop-off point if you want to avoid the 2 hour cruise into the city. Brundall is our featured village this month, so for more about mooring spots, where to eat and drink etc, see our latest newsletter..

July 2019
Every year, the Summer School Holidays near as well sell out. This is the one time of the year where demand exceeds the number of boats available for hire. The newsletter urges prospective holidaymakers to book now (July is the peak booking month) rather than leave it until a couple of weeks before you want a holiday. We get many calls each August from people unable to find a suitable boat. Sadly for them, they are forced to look elsewhere for a boating holiday. There is still a good choice of boat types available but that will soon change. So if you are intending to holiday on the Broads, please don't leave it too late.
A plea has gone out from some of the social media sites to consider others when mooring up your boat. Especially in the high season, moorings can be at a premium in some places. When tieing up for lunch or the evening, please allow the minimum amount of space required between your boat and the next so that others have a chance of mooring in what space remains. Leaving large gaps (but not large enough to accommodate another boat) is really becoming ant-social, and you never know, it might just be you looking for that last remaining mooring spot.
Chances are you will be passing through Ludham Bridge at some stage on your next trip. This month's guide features Ludham Bridge, informing you where the bars and restaurants are, where to moor and lots more. Read more on all the above by clicking the image.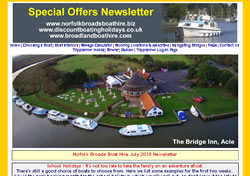 June 2019

June is really a bargain month in that you get the long days, decent temperatures, less crowded moorings, everything is open and fresh for the summer and the fishing season starts around the middle of the month.. Yet you pay a fraction of the price you would in the summer school holidays. As an example, a week commencing 22nd June on the 6 berth San Lucia from Richardsons will cost you £1002. However in August it's over 30% more expensive at £1335. So it's clear that if you can get time of this month, you can save a lot of money. I have put some examples together in our latest newsletter, with breaks starting at just £62 per person for a 4 night stay on the 8 berth Tideway.

Sutton Staithe is in a very picturesque setting, right next to the popular Sutton Staithe Hotel. You are just minutes from the wildlife of Sutton Broad, and being so close to Stalham makes this lovely little village a good start or finish point for those hiring from Richardsons. For more on where to moor, services and local attractions, see the newsletter.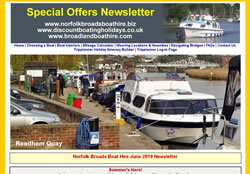 May 2019

Spring Bank Holiday is just the other end of this month and amazingly, there are discounts still available if you want to push the boat out. The biggest saving we could find was £188 on a week's holiday aboard the fabulous, top of the range Silver Elegance, a six berth dual steer boat from Brundall, down from £1945 to £1757. For more modest tastes, Bright Gem, a 7 berth cruiser, is available at just £100 per person for a seven night break. Full details of these and other discounts are in our latest newsletter.

We now have a new start point for boat hire. The Waveney River Centre at Burgh St Peter on the River Waveney in the south, is now offering cruiser hire for short breaks and weeks. Many of their craft are high spec boats, some only a matter of weeks old. Starting from Burgh St Peter will add opportunities to see more of the southern Broads.

Finally, our monthly village spotlight falls on Surlingham on the River Yare. It's a beautiful spot, lying not far from Surlingham Broad, a nature lovers must see. We tell you where to moor and what to see in our guide. See more on all of the above by clicking the newsletter image.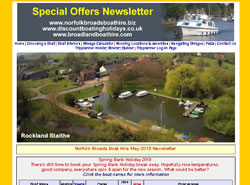 April 2019

The clocks have gone forward so we now have an extra hour of daylight. Summer is on its way and the Broads businesses are gearing up for the summer. Boats will have been "rejuvenated" over the winter and will now be sparkling. Our newsletter ponders whether the current Brexit deadlock will mean more visitors to the Broads this year. It's a fact that many people are postponing overseas holidays until the position is clearer. When will that be!

Our Live Music and Other Events page has relaunched for the season and currently lists what's on in the months of April and May.
Finally, the market town of Stalham is featured this month. Many people start their holiday there so this guide will help you locate shops, banks, bars and eating places.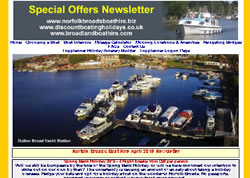 March 2019

Wow, Spring is in the air officially! If you feel you've been hibernating all winter and the recent unseasonable weather has awoken your desire to get out into the countryside again, why not take the family on a boating adventure this coming Easter. In seven weeks time you could be out on the water enjoying the best that Norfolk has to offer, with prices starting as low as £75 per person all in spending the Easter weekend aboard Gold Gem, a six berth cruiser. Or stay the week for just £108 per person. We have some ideas for 3, 4 and 7 night Easter breaks listed in this month's newsletter.

You may have seen that some boats advertise as having 240 volts on-board. What is it? Do I need it? If I don't have it will there be no lights? All of these questions are answered in our guide in the newsletter. (By the way - the lights stay on with or without it!). Finally, the pretty little village of Rockland, off the River Yare is featured this month. Rockland stands on the picturesque Rockland Broad. Read our guide to the area in the newsletter.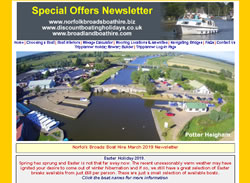 February 2019

At last, the nights have started to get a little shorter and though we are currently in the grip of some really cold weather, springtime is just a few weeks away as I write this. A little further on is the Spring Bank holiday at the end of May. This holiday is regarded as the unofficial start of the summer boating season. All pubs and restaurants are fully open, The nature reserves are welcoming visitors and many activities on and around the water come to life. With a bit of luck, the cold winter will be just a memory as we anticipate the warmth of the coming summer. So why not get back into the countryside on board a holiday cruiser from just £75 per person for 4 nights over the Spring Bank break? I have put a few options together in our latest newsletter.

One of the most lauded public houses on the Broads is the White Horse at Neatishead. This pub is regularly lauded for its good food and wide choice of ales. If you intend visiting "The Horse", you might like to know what moorings are available to you in Neatishead and what else is worth seeing whilst there. Take a look at our Neatishead guide in our latest Newsletter. Click the image for more on all of the above.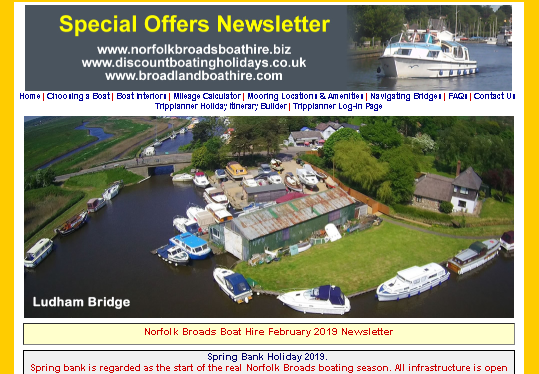 January 2019

Its 2019. Christmas is over and its time to start thinking of the summer. The January sales have launched for cookers, carpets, sofas, clothing and to compete for your money, the boat operators have announced their start of year sale with up to 15% off boating holidays. For the early birds there is also an additional £25 discount to be had on selected breaks booked on or before the 7th January. All that and book with a deposit from £30 per boat per week. You may be skint after Christmas but it does not take much to secure your holiday wish list and have something to look forward to through the hard winter months. Full details of who is offering what are in our latest newsletter.

In our latest exploration of the villages and towns of Broadland, we focus on Acle. This market town is just a two hour cruise from Great Yarmouth and as such is a favourite with those wishing to stop off or pass through the seaside resort. Our review of Acle is included in this month's newsletter