Norfolk Broads Discounts and Offers Newsletters
Here you will find our archived Newsletters which are emailed monthly to subscribers containing latest offers and discounts together with general advice for anyone wanting to hire a boat on the Norfolk Broads.

To read more, just click an image of one of the newsletters.
November 2020
The summer season is officially over (well, if it wasn't, it will be from Thursday, with the imminent lockdown). Time to think about next year, which is what many people have been doing. Due in part to the many bookings which have been carried over from this summer, and the continued reticence of large numbers of people to trust that the overseas market will have opened by next summer, availability for 2021 is already tight for peak dates and public holidays. Today I'm highlighting Spring Bank Holiday, which usually sells out, being the first public holiday of the summer. If you normally like to get away in late May, please consider making your reservation sooner rather than later or you'll likely be disappointed. This month's newsletter picks out some 3, 4 and 7 night breaks, and there is still a good choice, though it's telling that most of the larger, or more luxurious craft, are already sold out.

Wayford Bridge is located at the navigable end of the River Ant, and is a picturesque spot to moor for lunch, or an evening meal at the Wayford Bridge Hotel. There are two sets of moorings available, one paid, one free. Our village directory points them out and tells you what amenities and nearby places to visit, are available to you in this quiet backwater location.

October 2020
With very little availability left for October, some of the boatyards have started letting their boats out in November. Normally, the seasons ends at the end of October, so it's a novelty to be able to take a break on the Norfolk Broads in November. So what is it like to hire at that time of the year? Well there's no doubting that the weather will play a large part in your enjoyment of the break. November nights can be cold and frosty, but often you do get dry sunny days, which are a delight for walking. Another positive is that the crowds have gone home, so moorings are much easier to find and most of the pubs and restaurants remain open year round, so you won't find it difficult to locate somewhere to eat. Hire charges are at their lowest point of the year, so a week or midweek break afloat won't cost the earth. If you missed out on a holiday afloat this year, perhaps it's worth thinking about this extension to the season. There's still a good choice of boats on offer.

The pretty little village of Irstead on the River Ant, is one of those places you simply must not pass by if you see a mooring. There are only 3 to 4 spaces on the free public staithe, and as this is such an idyllic spot to experience the quiet countryside, it's not often you will see a space. Many Broads boaters will tell you they have not been able to grab a space over many years. It's right on the edge of Barton Broad, and as such, it offers great walking opportunities. We show you the moorings, and point out what's worth seeing in our latest newsletter.

September 2020
August has proven to be the month where every bookable boat was out on the water, leaving many people disappointed. What with the restrictions on holidaying overseas, it's a staycation year, so it's was to be expected. September is also fully booked, but we are getting three to five cancellations a day, which can be found on
THIS PAGE
.
Because the demand is so great, some of the larger boatyards have extended their season into November. You can now hire right up to the 28th November. So if you've missed your summer "voyage" and are hankering after some time afloat this year, check what's available to hire by clicking
HERE
The pretty little village of Irstead, should be on everyone's list for a visit. Having said that, it only has 3 to 4 moorings and is very popular. So if you're passing by and see a space, interrupt your plans and take the mooring for an hour or so's stopover. Our monthly village directory talks you through the mooring options, together with a guide to what's good to see nearby. It's in the newsletter.
August 2020
Wow, who would have thought that in less than a month, all of August and most of September would have sold out. Since the announcement of the end of lockdown on the 4th July, just about anything that floats has been snapped up across the boat hire industry. We recognise that there is still huge demand, so we have set up a cancellations page on our site to offer these holidays back on sale. Its
HERE
. The page is updated between 9 and 9.30 each morning, and new cancellations are added frequently as the day progresses.
There are still odd pockets of availability in September, but it's not until October that the choice really widens out. October is the story in this month's newsletter. We suggest a number of options at a time when everything is still open, the weather can still be pleasant, and more importantly, the prices are around half that of high season.
This month we feature Norwich in the newsletter. If you want to know where to moor, what the local attractions are and where the nearest pubs are located, take a look at the newsletter by clicking the adjacent image:
July 2020

So we're back. From Saturday, our boats will be leaving their moorings for the first time, in most cases, this year. With things as they are this year, the Staycation is once more, the thing. Since the government announced the forthcoming release, bookings have been overwhelming and availability for the summer school holidays is tight. But there are still some 7 and 4 night breaks available from the second half of August. My newsletter this month highlights boats which are still available at the time of writing, and it's not just the most expensive cruisers that remain. What happens if the government puts new restrictions on, once I've booked my holiday? In most cases you are covered. Full details are in the newsletter.

Finally, if you are looking forward to your trip, you might want to consider a stop at Thurne with it's magnificent white windpump. The newsletter tells you all about this pretty little village - where to moor, what to see and the best place to eat and drink.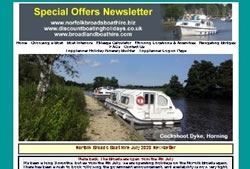 March 2020

I'm writing this on meteorologically, the first day of Spring, although it has to be said, with all the wind and rain we've had recently, Spring doesn't seem to have sprung so far! But in less than six weeks first Easter, and then Spring Bank Holiday, will be upon us. So it's time to start planning a little holiday adventure with the family. In this month's newsletter, we're concentrating on the Spring Bank Holiday, with ideas for breaks around the 26th May. We have 4 night breaks starting at £100 per person, and 7 nights at £134 per person.The Spring Bank holiday marks the start of the summer season on the Broads. Everything is open, the boats are still fresh from their winter maintenance, the prices are at their cheapest for a summer school break,and hopefully, the sun will shine.

How Hill, is a very popular stop off point, on the River Bure, around 30 minutes before entering Barton Broad. It has a good stretch of moorings and It's a wonderful spot for a picnic or a leisurely lunch aboard your boat. How Hill is the featured mooring spot in this month's newsletter, with advice such as where the free moorings are, and nearby sight-seeing opportunities. For more on any of the above, see our March newsletter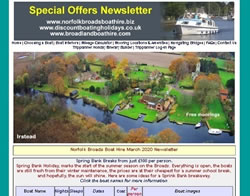 February 2020

It's been a mild winter so far, with very little snow or frost. It puts you in the mood for a little break away from the down-hill slog to the summer. Easter is mid April this year, and with a little luck, the weather could be half decent. So if you want to take the family away on a holiday adventure afloat, Easter is a good time to visit the Broads. All the pubs and restaurants will be open, and the boats will be gleaming following their winter service. We have breaks over the Easter weekend, so Good Friday to Easter Monday, starting at £83 per person. Midweek and week long breaks also available.


We're featuring Great Yarmouth in the newsletter this month. It's not just a large holiday resort. It's also the point at which the northern rivers meet the southern rivers. As such, extra care needs to be taken to moor there or even to just pass through. Our guide will help you find moorings, advise you on how to approach the quay in prevailing tides, and fill you in with the nearest services to the Yacht Station. It's all in his month's newsletter.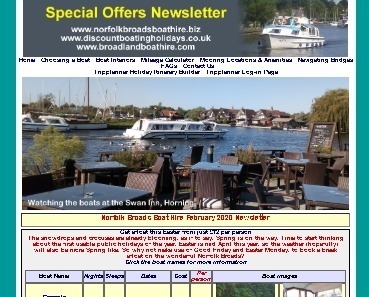 January 2020

Well, what a difference a year makes. Last year at this time, the market was depressed and bookings for the coming summer were down. Early indications for Summer 2020 are just the opposite, with bookings up around 10% on last year. Whether it's that Brexit has been sorted, (at least until the end of the year), or people have just had enough of the economic uncertainty of the last three years, it looks like being a good season for the Norfolk Broads. There are still good deals for early bookers, with discounts of up to 12% throughout the summer. Plus you don't need to lay out a hefty amount to book, as deposits start from just £25 per boat.

Just in the event, you haven't come across it yet, the early Spring May Day holiday has been moved from Monday 4th May to Friday 8th May. This is to coincide with VE Day Memorial celebrations that weekend. So if you normally plan a holiday to include the May Day holiday, beware it's changed.

Ever been to Ranworth and it's associated Broad? For those that haven't, the latest newsletter features this delightful and popular stop off point. We tell you where to moor, the best time to arrive, and provide a guide of what there is to see and do in the area.
Click the image to access the newsletter.