What you can expect on a modern forward drive cruiser
The images below were taken aboard Swan Reflection 2 which is pictured above.
The Lounge Area

This boat steers from the front and so houses the helm position in the lounge area. It also offers a sliding wheelhouse which allows for open air dining in good weather. Not all boats have sliding wheelhouses though those that do not will offer a sliding roof similar to that in a car. A dining table is housed out of site to save space but is easily erected for meals.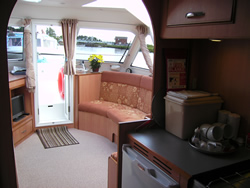 Looking forward from the Kitchen Area

This boat has access through front and rear doors which is good for mooring the boat as the "crew" are just a few paces from stepping ashore. All Norfolk Broads boats feature a television onboard. This is located to the left of the image on this boat. The steering position is located just behind which offers good vision going forward.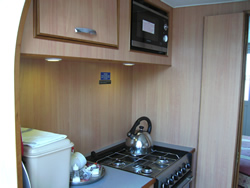 The Kitchen Area (1)

On this boat, the kitchen is divided either side of the walkway with the oven, hob and fridge on one side and the sink unit on the other. This particular boat offers a microwave which can be seen at top middle of the image. Not all boats have a microwave so tick the selection box on the search form if this is a requirement of yours.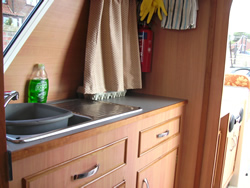 The Kitchen Area (2)

Hot and cold water is piped to the sink and draining board which is located under the window. Hot water is usually achieved by running the boat's engine for an hour or so during the day. It will usually stay hot for some hours after.
Drinking water is from a separate filtered tap located over the sink unit. Pots, pans, cooking utensils, plates and dishes etc are located in the cupboard under the sink unit.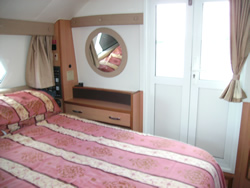 Bedroom

The bedroom on this boat has an island bed which allows entry from both sides. Most boats have beds placed against one of the boat sides which makes for disturbed sleep if your partner likes to make many trips to the toilet during the night. There is usually ample wardrobe and drawer space in the cabin to accommodate your clothing for the week.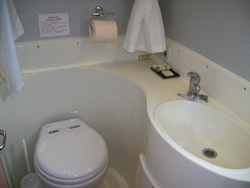 The Toilet and Shower Room

If you have never holidayed on a boat before you might not have expected to find a fully fitted toilet and shower room onboard. All boats offer a well designed if cramped area housing a toilet that flushes together with a shower which will have pull round curtains rather than a dedicated cubicle.